Osprey Video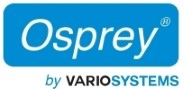 About Osprey Video
For more than 18 years, Osprey Video Technology has set the industry standard for high-quality, reliable streaming performance. On March 1st 2014, Variosystems took over the technology that helped start the streaming revolution. Osprey by Variosystems, LLC will continue to offer cards for every need – from cards that capture video-only camera feeds to a high-density SDI capture card with four independent SDI channels.
Variosystems is 100% committed to continuing the Osprey tradition of providing professional-quality computer cards designed to capture audio and video from standard analog sources to high-definition digital sources.
Osprey capture cards are used in mission-critical applications throughout the world and are known for legendary quality and performance. Used in a wide variety of applications, from aerospace to surveillance, Internet TV to webcasting, Osprey cards drive the delivery of video to viewers all around the globe. More than 400,000 cards are used in a variety of broadcast, commercial and industrial applications.
About Variosystems
Variosystems is a privately owned company with more than 1000 employees worldwide. With locations in USA, Switzerland, China and Sri Lanka Variosystems is well positioned for the future. Our core business is electronics contract manufacturing but we also have some OEM brands with Osprey being the latest one. For more information about Variosystems please visit www.variosystems.com
---
Talon Hardware Encoder Appliance