AV Network recognizes Lumens CamConnect Pro as Best of Show at InfoComm 2023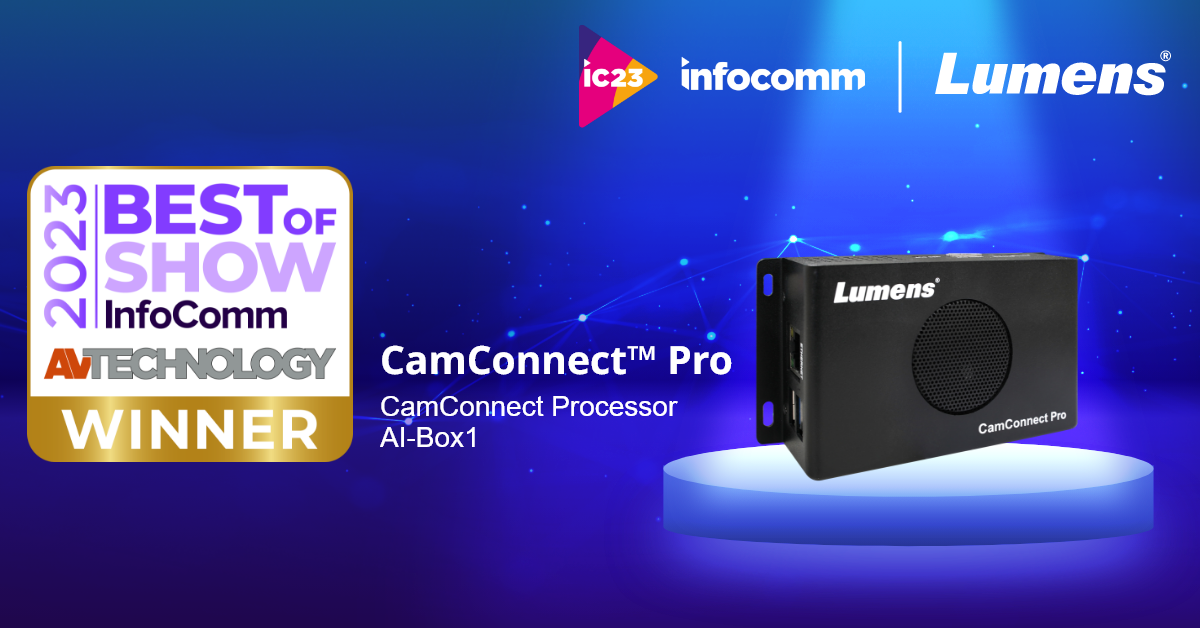 AVNetwork has awarded Lumens CamConnect Processor AI-Box1 best of show in the InfoComm AV Technology category. Independently judged, the accolade is a recognition of the ground-breaking new device which enables PTZ cameras to synchronize with directional microphones to focus on the active speakers in a meeting room or studio space.

AVNetwork brings together some of the audio-visual industry's most respected publications including Systems Contractor News, AV Technology, Digital Signage Magazine, and EduWire. Its appointed judges evaluated solutions on show at the event to identify products which deliver innovation, strong feature sets, ease of installation and use, and potential overall value.

"CamConnect Processor AI-Box1 clearly ticks all the boxes." Commented Steven Liang, Head of Product Development at Lumens Digital Optics Inc. "Beta testers, manufacturer partners and integrators alike are excited about the fast installation times for CamConnect Pro, its almost instant pairing with third-party microphones and, most importantly, its excellent results."

CamConnect Pro works in tandem with selected microphones from Nureva, Sennheiser, Shure and Yamaha, and supports a growing list of DSPs. Designed to run autonomously and integrate seamlessly with Teams and Zoom installations, the device switches instantly between up-to IP and USB-connected 4 cameras and can receive real-time co-ordinates from as many as 16 connected microphones.

The new AI-Box1 incorporates artificial intelligence algorithms which can identify if an individual has moved from their preset camera position, re-framing them automatically to maintain a sharp focus on active delegates. It also gives the unit the ability to track a presenter as they move across a stage or classroom, making CamConnect Pro suitable for use both in conferences and education.
https://www.mylumens.com/en/News_detail/157/Lumens-AI-BOX1-Best-of-Show-at-InfoComm2023