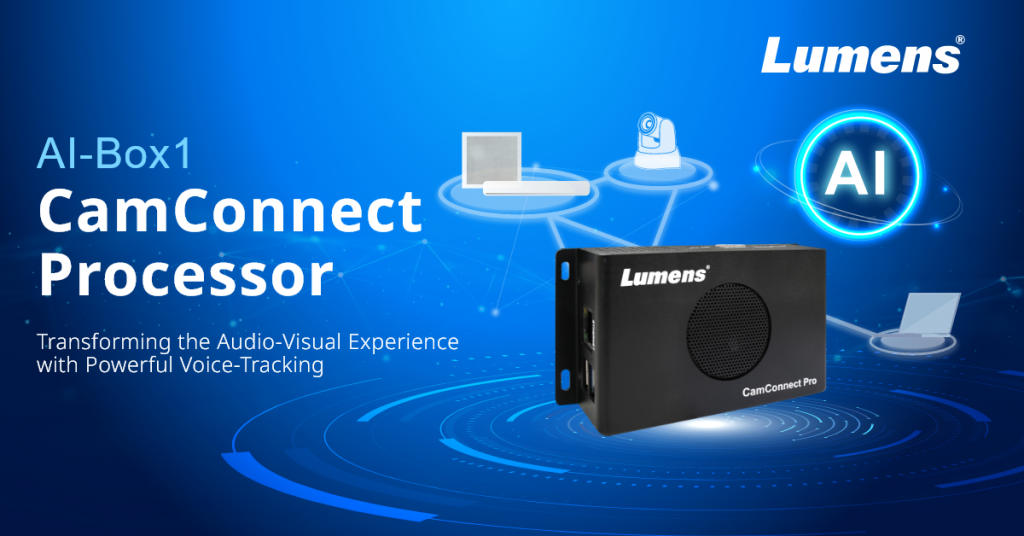 Hsinchu, Taiwan, May 31, 2023 – Lumens® Digital Optics Inc.'s CamConnectTM Pro (AI-Box1 CamConnect Processor) marks a significant milestone in the development of video conferencing and unified communications technology. CamConnect Pro brings a wealth of advanced tools including automated camera-tracking, voice-tracking and dynamic input switching. It also offers camera mixing for VC and UC applications which provides television-style production levels.

In an industry first, Lumens is introducing an AI-based multi-channel IP to USB converter to video conferencing and unified collaboration installations. This allows AV technicians to use easy-to-deploy IP cameras for use with Microsoft Teams, Zoom Rooms and other applications. Integrating and powering multiple IP cameras on the local network promises remote camera management, single cable installation and no practical limit on cable length.

Steven Liang, VP of Product Development at Lumens commented: "Not only do we tie in multiple IP cameras with multiple acoustic tracking microphones, but we also provide instant and automatic camera angle switching when microphones identifies the active speaker or speakers. This delivers on the promise of true meeting equity, with remote participants able to interact with in-room participants on a whole new level."

The intelligent hardware element of CamConnect Pro, AI-Box1 CamConnect Processor, is as small as a mini converter but has the power and flexibility to support up-to 4 cameras, multiple microphones and collaboration tools such as Barco ClickShare CX series. It is optimized to partner with microphone arrays from Nureva, Sennheiser, Shure and Yamaha.

Advanced features of CamConnect Pro place live speakers in a side-by-side or 2×2 multiview configuration on screen, allowing viewers and remote participants to engage with discussions and debates without the constant moving back and forth of a camera. The solution supports input from a single voice-tracking microphone or an entire array of installed mics, making it suitable for use in huddle rooms and lecture theatres alike.

More Details
For more information about Lumens CamConnectTM Pro (AI-Box1 CamConnect Processor), please visit:
https://www.mylumens.com/en/Products_detail/1094/CamConnect-Pro-AI-Box1