Lumens Brings Innovation to Barco ClickShare CX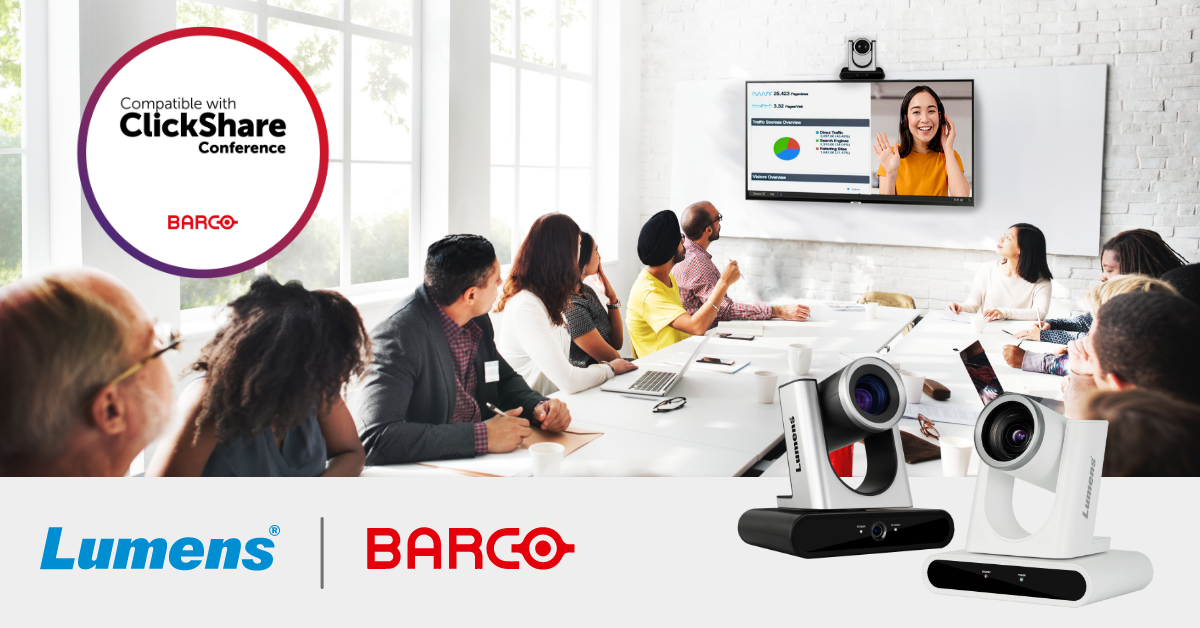 Lumens have announced that its auto-tracking VC-TR40 and auto-framing VC-R30 cameras are now certified for ClickShare CX products. The cameras join more than a dozen Lumens models which are already certified by Barco.

VC-R30 is a 12x HD PTZ camera which is ideal for small to medium sized meeting spaces. Rather than relying on a wide angle shot, it has the in-built intelligence to re-frame the shot around the space occupied by delegates. The VC-TR40 features a 20x zoom making it suitable for larger spaces. Its AI-enabled tracking modes enable the camera to follow a presenter and switch between target individuals with a wave of the hand or click of the mouse.

"ClickShare CX is at the heart of countless meeting spaces and huddle rooms and is relied on for its ease of use and reliability. By pairing the technology with Lumens cameras, users can be sure of a seamless experience and excellent results. The new cameras certified by Barco will deliver a new level of meeting equity for remote delegates, encouraging greater engagement and interaction." Commented Steven Liang, VP of Product Development at Lumens.

Both Lumens cameras can be wall- or ceiling-mounted, upright or inverted. With IP, SDI and HDMI as well as a USB connection, the cameras can be powered and managed over the local area network. All outputs are simultaneously live for video output, giving AV managers enormous flexibility on monitoring, displaying and streaming pictures locally and over IP networks.

Both models are now shipping and are available from Corsair Solutions.
More Details
For more information about the integration of Lumens Cameras with Barco ClickShare CX, please visit:
https://www.mylumens.com/en/Page/16/lumens-barco-wireless-video-conferencing-solution