Challenge: The Brooklyn International School in Italy required a modern form of teaching technology which would make lessons more engaging and entertaining for pupils. As well as this, the device needed to be portable so it could be used across multiple classrooms.Solution: Boris Godizzi, owner of Luxi, a distributor in the province of Brescia had no hesitation in selecting Optoma's 65-inch interactive flat panel display (IFPD). With its interactive capabilities – suiting the teaching discipline perfectly, the Optoma OP651RKe IFPD was selected as the best solution for the installation.Results: The simple and effective Optoma OP651RKe met all expectations and fit the Brooklyn International School requirements perfectly. Boris Godizzi, Chief Executive Officer at Luxi commented: "The Optoma OP651RKe functionalities perfectly fit the Brooklyn International School requirements."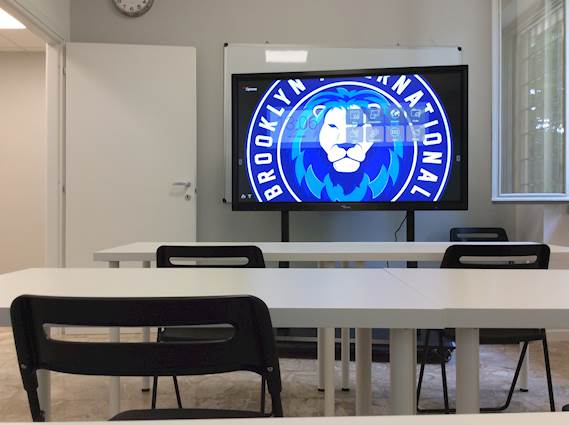 The Challenge
The Brooklyn International School in Italy required a modern form of teaching technology which would make lessons more engaging and entertaining for pupils. As well as this, the device needed to be portable so it could be used across multiple classrooms.

Marco Monteverdi, Chief Executive Officer at Brooklyn International School said: "The main problem that needs to be solved is that lessons need to be more engaging. The selected technology also needs to be used across three different classrooms, so portability is also very important as well as a very good price."
The Solution
Boris Godizzi, owner of Luxi, a distributor in the province of Brescia had no hesitation in selecting Optoma's 65-inch interactive flat panel display (IFPD). With its interactive capabilities – suiting the teaching discipline perfectly, the Optoma OP651RKe IFPD was selected as the best solution for the installation.

Optoma's multi-touch OP651RKe IFPD boasts 4K UHD resolution and a 20-point touch-enabled display, bringing lessons and idea sharing to life in education and corporate settings. Additionally, the IFPD features screen share capabilities from mobile devices via iMirror and Optoma TapCast Pro wireless sharing apps for easy bring your own device (BYOD) collaboration. Also, built-in support for popular cloud storage solutions, including Google Drive and Microsoft OneDrive, provide quick access to digital storage for easy sharing, making this product is exactly what the Brooklyn International School needed.

In addition, the OP651RKe boasts over eight million pixels, providing Ultra HD 4K resolution – bringing four times more detail than Full HD 1080p to deliver sharp, life-like images and rich colours – allowing students to sit closer to the screen and enjoy a more immersive experience.
The Results
The simple and effective Optoma OP651RKe met all expectations and fit the Brooklyn International School requirements perfectly. Boris Godizzi, Chief Executive Officer at Luxi commented: "The Optoma OP651RKe functionalities perfectly fit the Brooklyn International School requirements."

Marco Monteverdi said: "This interactive flat panel by Optoma is exactly what we were looking for and it is the ideal teaching support."

The OP651RKe can be easily transported from one classroom to another through the use of the optional trolley (ST01 Trolley) which was also purchased. The provides quick and easy set-up in any environment.

The 65-inch IFPD by Optoma has proven to be an excellent choice for the Brooklyn International School. It has made teaching more dynamic and increased student learning; therefore, contributing to positive performance results.
Equipment List
OP651Rke, ST01 Trolley